The Fortune Tellers
by Lloyd Alexander, Illustrated by Trina Schart Hyman, published 1992
"Rich you will surely be," answered the fortune-teller, staring into the crystal ball on the table. "On one condition: that you earn large sums of money."
How delightful to mix a little wisdom with amazing watercolor images of Africa, and come up with a story to delight young children, and even a few older ones. This children's book almost reads like a Nasrudin story, where the main character seems to be totally naive, and yet serves a wonderful purpose of illustrating life through humor.
I checked this children's book out of the library because I was searching for works by the illustrator, and I knew that I loved Lloyd Alexander. I wondered what the combination would bring. It simple brings delight. Lloyd Alexander is a first class story teller, and it's hard to believe he creates these stories as they feel timeless. Trina Schart Hyman is an extraordinary illustrator, who seems to be able to convey any time, any place, any image, with great skill and artistic talent. Bringing them together makes a children's book worth having in your library for little ones.
Everyone will enjoy this little story, and if you have any connection to Africa, it is even more magical, as the illustrations bring the village scenes to life perfectly.
Find this children's book at your local bookstore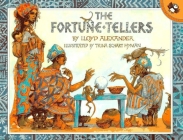 Find this on Amazon: The Fortune-Tellers